Numismatic auctions for professionals
Pubblica le tue aste numismatiche sul primo portale Italiano di Numismatica: presenta ai oltre 40'000 utenti verificati i tuoi lotti, raccogli le offerte, svogli aste live e gestisci la fatturazione ed i pagamenti. Tutto integrato, tutto pronto.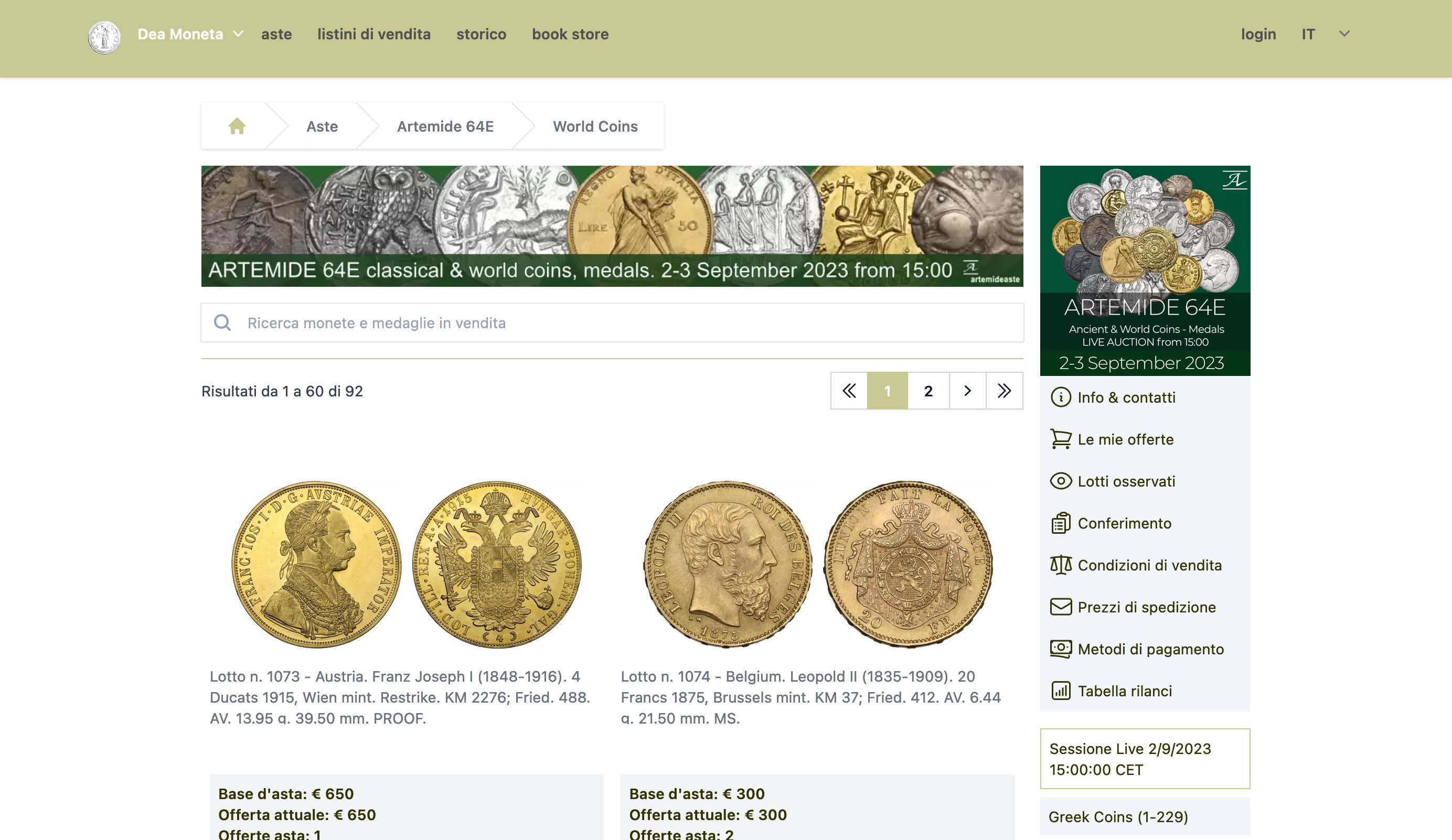 Every year the Dea Moneta portal generates sales of millions of euros with thousands of online transactions
Publish your auction now
Everything you need for your auction
The turnkey solution for your numismatic auctions is here. Propose your lots to specialized and selected customers. Generate orders or manage transactions.
Assisted loading

Send us your data, we will handle the upload. Just a spreadsheet and your photos renumbered. We'll take care of the rest.

Live Auctions

Dea Moneta provides you with the most advanced streaming solution. With or without video, reach your customers without latency.

Various modes

Live auction, electronic auction or bid collection (proxy auction)? You choose how to work with us.

A secure marketplace

We manually verify all users and undertake to verify the veracity of the data.

Integrated order management

The portal directly generates payment requests on behalf of the seller: the customer is immediately notified and invited to pay.

Integrated payment VISA and Mastercard

You can manage payments by VISA and Mastercard credit cards right away, streamlining the checkout process.

Post-auction sales

At the end of the auction, continue the sale by transforming your catalog into a fixed price sales list

Fixed price sale

With the Sales Lists you can publish your fixed price sales catalog. Duration, bimonthly, half-yearly or annual.

Multi-channel advertising

Your event is our event: it is also advertised via email and on our social profiles.

A showcase on the world

By posting a sale, you gain in visibility and you will reach thousands of customers, all over the world.